The Zephyr Clarinet Choir is a Portland area community-based organization dedicated to our love of playing clarinet together and for music in large ensembles. I am directing the ensemble since its foundation in 2017, assisted by Alex Christy. The ensemble consists of students, alumni, clarinet enthusiasts, and retired professional players. We play original compositions and arranged music in a variety of styles. In recent years, several composers have written new works dedicated to our ensemble, thus contributing to the creative genre of Clarinet Choir as a whole.
The Zephyr Clarinet Choir has formalized its status as an Oregon non-profit public benefit corporation in 2021.
Let us know if you're interested in playing with us or helping us out or serving on the board.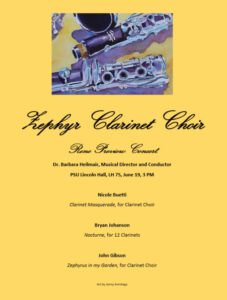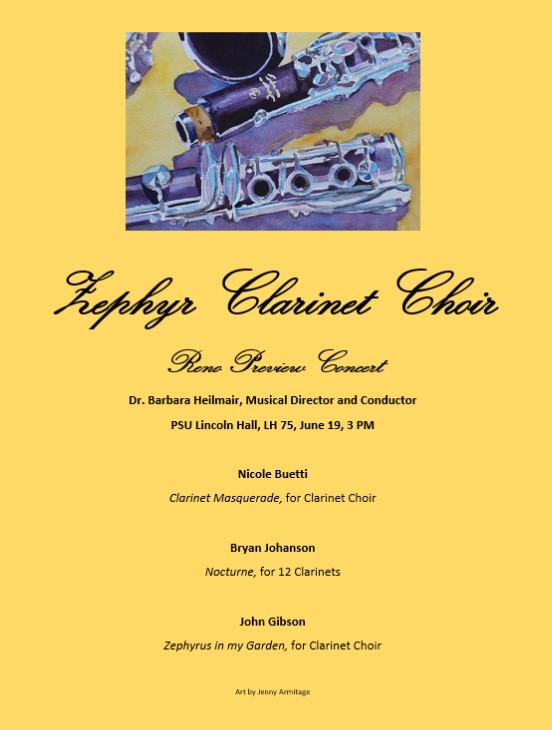 In June 2022, at the ICA ClarinetFest in Reno, we have performed three new pieces for Clarinet Choir that were written for our ensemble.
Nicole Buetti
Clarinet Masquerade (2018)
This work for Clarinet Choir was commissioned by Barbara Heilmair to be written for the Zephyr Clarinet Choir.
The idea for the piece was conceptualized by
Barbara Heilmair and Nicole Buetti after they had a performance together of a midnight waltz
that Nicole had composed for Portland's annual Vampire Ball. The idea of a haunting piece for
clarinet choir sparked the commission of this work for the Zephyr Clarinet Choir.
Premiere Performance: Portland State University, Lincoln Hall, 2019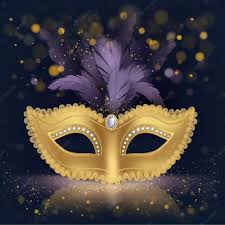 The "Clarinet Masquerade" is a charismatic piece for a fully-instrumented Clarinet Choir, ranging from E-flat to Contrabass Clarinet.
 With a spooky waltz theme, the composition features the unique sound of clarinets playing together. The composition has a feel of an elegant and festive dance turning wild. The latter is achieved by
off-symmetric rhythm patterns, drastic dynamic changes, and strong accents. Listeners can imagine a group of tipsy dancers being swept away by the intense music, trying to keep their balance. Or, one can simply enjoy the gorgeous sounds of low and high clarinets combined.
John Gibson
Zephyros In Our Garden (2021)
This work for Clarinet Choir was written encouraged by Barbara Heilmair for the Zephyr Clarinet Choir.
Premiere Performance: ICA ClarinetFest 2022, Reno/ Nevada
"Zephyros in Our Garden" presents aspects of the Greek and Roman god, Zephyros. He was mostly the god of the gentle west wind, but he could also be not-so-gentle and a danger to sailors. He could be a horse, too! As a musician Zephyros was known to hang out with an ensemble of swans and sing cheeky songs.
As a composition for clarinets the piece uses a few "extended techniques", some of which the players may not have done before: using ancient pentatonic scales, double tonguing for very fast sections, quarter tone trills, finger vibrato, fall offs and slides, and finally,  playing in a cheeky or sassy manner!
(John Gibson)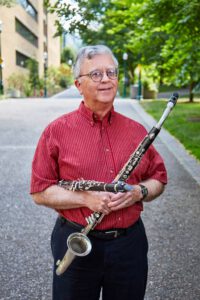 Bryan Johanson
Nocturne For 12 Clarinets (2021)
A meditative work for 10 Clarinets in Bb and 2 Bass Clarinets.
This composition was presented as a gift to Barbara Heilmair during the COVID-19 Pandemic, creating a silver lining of future performances for the Zephyr Clarinet Choir.
Premiere Performance: ICA ClarinetFest 2022, Reno/ Nevada
If you are a Composer interested in writing a piece for the Zephyr Clarinet Choir, please contact me at heilmair@pdx.edu
Zephyr Clarinet Choir Website
https://sites.google.com/view/zephyrclarinetchoir/home